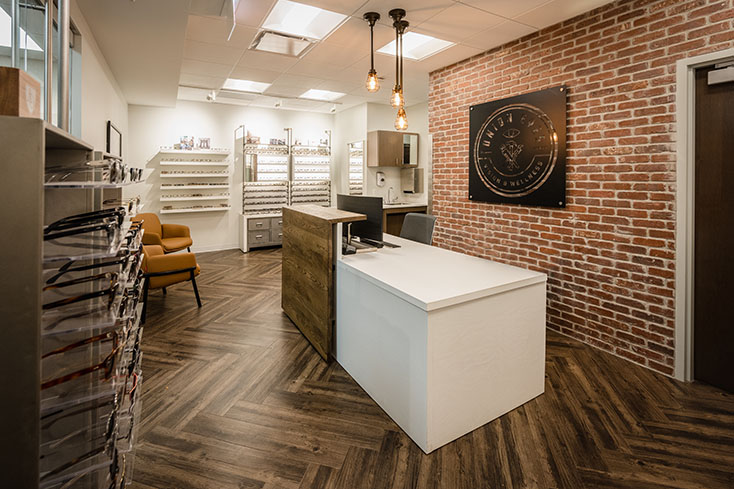 Eligible participants are entitled to one comprehensive eye examination per calendar year and unlimited follow up visits at no charge.  All urgent care and telehealth visits are also provided free of charge at any time throughout the year.
All eligible participants are entitled to one free pair of dress prescription spectacles per year or one year supply of contact lenses including the contact lens fitting per calendar year. Each union member active in the field is entitled to one free pair of prescription or non-prescription safety glasses in a calendar year.
All frames and lenses are warrantied one year from the date of examination under a no questions asked policy.  Union Eyes will replace the safety or dress pair frame or lenses if they are scratched or broken due to normal wear and tear or due to accidental breakage with no questions asked.
In lieu of glasses or contact lenses the member may choose to be fit with orthokeratology lenses to manage the member's or their child's myopia.  This is a $2,500 value provided at no charge on a yearly basis.
The member and their dependents are also able to purchase an additional pair of glasses, sunglasses, or contact lenses from their personal funds or their benefit card at a proprietary union discount from Union Eyes.
Eligibility is determined by each union.  Some unions also have restrictions on the age of retirees that are eligible.  Check with your local fund office if you have questions or if your benefits have changed.  As of 2021, retirees from the following unions are currently eligible at Union Eyes:  Local 63, Local 130, SMART 265 retirees under the age of 65, Local 502, and Local 701.
Zero. There is no out of pocket cost at Union Eyes when members utilize their benefits at one of the seven Union Eyes locations.
Zero. There is no out of pocket cost for additional options such as high index lenses, lightweight frames, no-line bifocals, or antireflective coatings.
No. Union Eyes has the ability to pull your benefits and verify your eligibility. The union coalition has invested heavily in this one-of-a-kind vision care benefit at Union Eyes. If you utilize your vision benefit at another provider, you will not be eligible for a comprehensive exam and materials at Union Eyes until one calendar year from your visit to the commercial provider. It is important to note that all commercial providers and private optometrist offices will have out of pocket costs including copays and overages when using your vision insurance. There is no out of pocket cost at Union Eyes. Union Eyes offers only premium, high quality products that are far superior than what can be obtained from any commercial location.
No. Once you utilize your benefits at Union Eyes, you cannot "double dip" by attempting to use your vision benefits at another provider in the same calendar year. Your union is charged with paying your vision claim when your benefits are utilized at an outside provider. The fund will be notified. Each union has a right to recoup these costs directly from the member.
Yes. You are eligible for materials once per calendar year. After receiving your year supply of contact lenses in February of 2022, you will again be eligible in January of 2023 for glasses or contact lenses.
Zero. There is no out of pocket cost for specialty lenses at Union Eyes.
Yes. Our doctors at Union Eyes are licensed to treat many medical eye care conditions including glaucoma, pink eye, corneal ulcers, and abrasions. Your medication will continue to be provided by your prescription drug benefit plan.
Yes. Our Union Eyes doctors are happy to examine your child or infant. Illinois requires that all children entering kindergarten undergo a comprehensive eye examination. We will be happy to fill out the required paperwork to submit to your child's school.
Yes. We can accommodate patients on rotating Saturdays and late evenings at one of our seven locations.
Yes, our doctors are on call 24 hours a day to meet your urgent eye care needs. Simply follow the prompts when you call our office at 312-888-9999. You will be connected directly to the on-call doctor, and one of our eye care providers will meet you at one of our Union Eyes locations.